In Venice, boats are as common a method of transport as cars have become in other cities. On the many major and minor canal routes which cut through the lagoon city, they are used as a vital method of transporting both tourists and the local population. With the "Scossa" project, Venice has now taken the bold step towards electrically propelled tourist boats, with a view to cutting emissions and noise pollution in the historic waterways lined by tall, narrow buildings. The operating company Alilaguna and the shipyard Cantieri Vizianello opted for electric motor technology from Siemens to build the "Scossa", the first small craft of its kind.

The technology used, which sets new standards for all kinds of smaller water craft, has already been in existence in the automotive sector and has now been adapted for marine environments. The electric motor comes from the automotive experience. It's a traction drive, adapted to the marine application but keeping the original small dimensions and bringing together the reliability requested by public transportation. The Elfa traction drives tailored into the Siship ecoprop application have been integrated into state-of-the-art LFMP batteries from Valence.

The power onboard comes from a Elfa 180 kilowatts (kW) permanent magnet synchronous machine or from the battery pack and feed the Elfa 180 kW propulsion motor through Elfa Mono frequency converters and Sinamics DCP converter.

The batteries are stowed under the bench seats inside the boat and provide sufficient power for a tour of the Canale Grande through Venice's popular historic center. The batteries are then recharged by a generator as the boat travels on routes located away from the center. In this part of its cycle, the boat is not 100 percent electrically propelled but switches to a "diesel-electric" propulsion system. Once out into the open lagoon, this diesel propulsion charges the batteries and is capable of achieving speeds of up to 30 kilometers per hour, corresponding to around 16 knots. In the narrow canals of the historic center, the boat travels in electric mode at around five/seven kilometers per hour, in other words three to four knots. This allows the boat to glide completely noiselessly, without emissions and creating only minimal waves through the heart of Venice. "It's like travelling on a sailing boat but is primarily a gesture of love for the city in which we live and work," explains Fabio Sacco, President of Alilaguna. "We are presenting 'Scossa' as the vanguard of a whole new generation of boats, and we are just at the outset of realizing number two." The "Scossa" is 15 meters long, a good three meters wide and is able to accommodate 40 guests.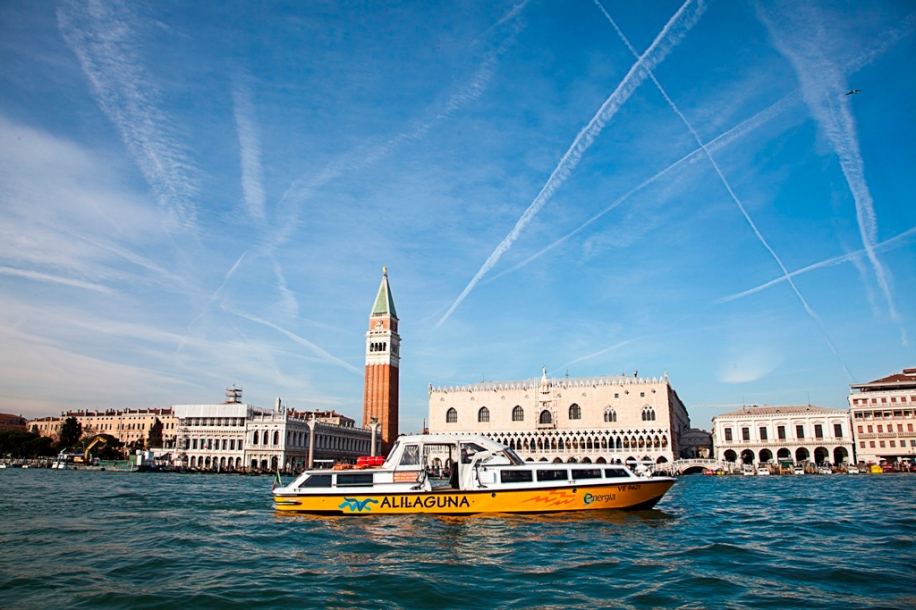 Read the entire press release from Siemens here: https://blogs.siemens.com/en/mediaservice-industries-blog.entry.html/2017/02/17/40159-gliding-through-venice-new-electrically-propelled-tourist-boat-sets-new-standards.html