LW12V7 - Launching in 2020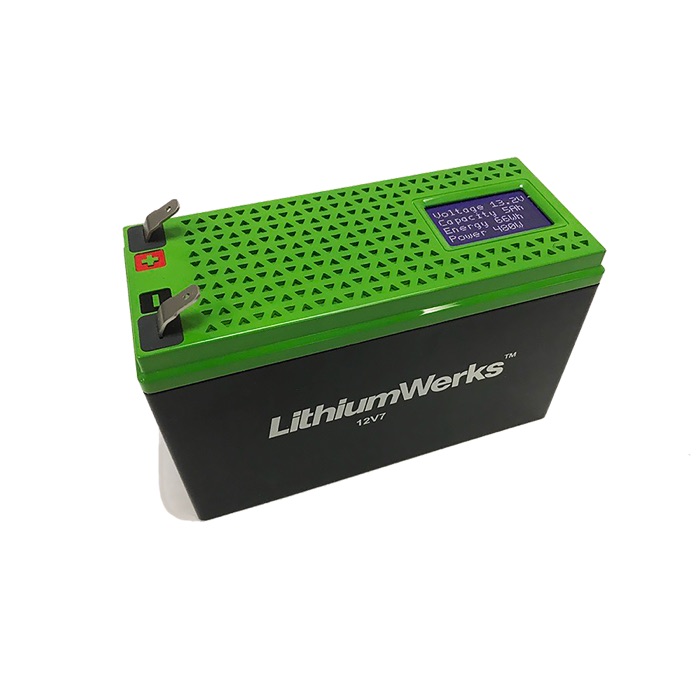 The LW 12V7 is a high-performance, long lasting, inherently safe, 12 volt battery, built on a patented Lithium Iron Nanophosphate® chemistry platform.
 12 Volt Critical Application Lithium Ion Battery
Lithium Werks provides safe, reliable and mobile energy solutions for energy storage and transportation.
The LW 12V7 is ideal for :
UPS systems
Telecomm backup power

 

Industrial applications
Off-grid power

 

Medical equipment
Exceptional deep discharge cycle life
Superior float, calendar, and shelf life
Protection at the cell, and battery level
Light weight with superior power density
Create systems up to 2.6 kWh
Up to 4 x 12V7's in series
Up to 10 x 12V7's in parallel
Enables 12V, 24V, 36V, and 48V systems
No external BMS required
Automatic cell monitoring & balancing
Temperature monitoring of cells
Fast, simple charging
Maintenance-free
Benefits of Nanophosphate®
Efficient & Fast Charging: High charge efficiency of >90%. Can recharge in 15 minutes.
High, Uniform Discharge Voltage: Delivers stable voltage during entire discharge.
Longer Life: Provides > 10 times the life of lead acid batteries.
Robust Safety: Multiple levels of protection prevent operation outside of current, voltage, and temperature limits.
No thermal runaway
No corrosive acid leaks
No explosive gassing
Cobalt Free
Space and Weight Efficiency
Systems provide >3 times the energy per weight of lead acid.
Environmentally Safe
Does not contain toxic metals such as cobalt, lead, cadmium, nor any corrosive acids or alkalis.
Electrical Specifications
Specs @ 25 °C
Voltage (nominal)
13.2V
Capacity (nominal)
5 Ah
Energy
66 Wh
Continuous Discharge Current
45 A
Max / Discharge Current Pulse
57 A
Charge Float Voltage Range
13.6 – 14.4 V
Recommended Charge CCCV
14.4 V to 0.5 A
Operating Temperature
-30 °C to 60 °C
Specific Energy
72 wh/Kg
Energy Density
68 wh/L
Standout Capabilities
Almost three decades of proven cell production, reliability, and durability
Longest runtime of any 12V7 battery in >300W/battery applications
Flexible programmability to tailor to customer's parameters
Internal logging capability for troubleshooting/RMA analysis
Superior protection circuitry
Optional communication capability (SOC, SOH, voltage, temperature)
Leader in Lithium Iron Phosphate technology with over 400 patents
Nanophosphate® chemistry platform
Vertically integrated from cell to system
Globally operating company
Worldwide customer service & support
Certifications

UL 1973
UL 1642 (cells)
IEC 62133
FCC Class B, CE
UN 38.3

Shipping Classification